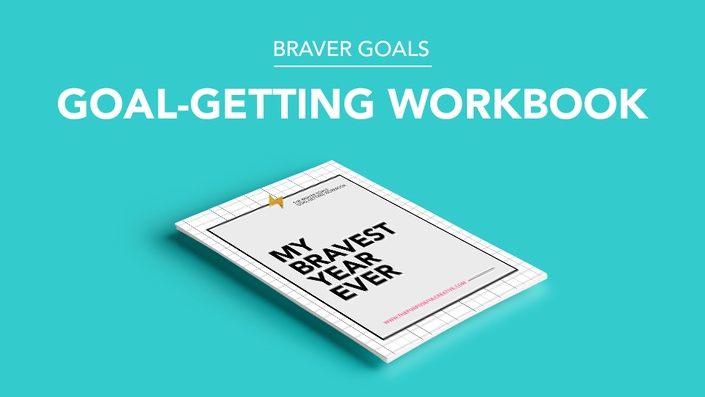 Braver Goals: GOAL-GETTING WORKBOOK
A 78-page interactive, printable workbook (PDF only)
What's inside:
A printable workbook to help you plan and visualize your whole year -- and make it your bravest year ever
And because it's printable - you can use and reuse for ALL years to come (unlike those Starbucks planners, which you need to buy every single year)
Comes with journaling prompts & guide questions to help you do a comprehensive (adulting) roadmap for your life
Monthly and quarterly progress trackers: A full template of questions + rating systems so you can do a review of your goals/growth/progress every end of the month
A Braver Goals calendar to plot out your big goals for the year
BONUS! You will receive monthly reminder e-mails from The Purposeful Creative team, to keep you accountable to do your monthly reviews for the rest of 2018 ;)
This course is not yet open for enrollment.
But if you're someone who wants more guidance + learns through studying examples and multimedia...
We recommend going for the Braver Goals: Level 1 Course
Basically this is the workbook, but it comes with guided online modules. That way, while you're answering the workbook, you will have accompanying texts, examples of filled out pages (so you can get inspiration), videos, pep talks, and other stories. Click here to check it out!
This can also be completed in 3-6 hours. By the end of the course, you'll be able to clearly articulate your long-term goals and priorities, and align yourself with your North Star.
This is for you if you like learning through examples, and appreciate a more multimedia and visual type of learning. While the workbook is somewhat like a standalone textbook, this Level 1 course is like having a teacher talk and walk you through it.
Here's the difference in the Workbook andLevel 1

This course is not yet open for enrollment.